Dear Friends,

For our final solo exhibition of our 54th Season we welcome Reynier Llanes to the Harmon-Meek Gallery. Llanes was born in Pinar del Rio, Cuba in 1985. He attended the city's school of art for four years and completed his studies in 2004. In Havana, Reynier Llanes was tutored by one of the country's most recognized realist artists, Juan Miguel Suarez. In 2007 Llanes grabbed an opportunity to emigrate from Cuba and moved to the United States. While in Cuba, painting supplies were limited, so he created a medium using coffee that he still uses in his work today along with oils, watercolors, and pastels.

In 2011 Llanes was awarded a "first purchase award" for a work now in the art collection of the city of Charleston, South Carolina. His art is on permanent exhibition in the museum collection of Franklin G. Burroughs- Simeon B. Chapin Art Museum in Myrtle Beach, SC. He is in the collection of the Snite Museum of Art in South Bend, Indiana and the Cornell Fine Arts Museum at Rollins College in Winter Park, Florida.

Reynier Llanes moved with his family to Miami in 2015 and has had solo exhibitions at Miami-Dade College West in Doral and will have an exhibition at Northwestern State University in Louisiana in May.

Llanes states "I am drawn to rural environments that afford a sense of space and silence and an opportunity to unobtrusively observe daily functions of others as we all pursue life's mission of work, love, and belonging. Agrarian life allows me to experience how we work in harmony with the mysterious and changing fabric of nature. It is the small, but critical tasks of daily life that I find most stimulating and reflective of the quality of essential, personal, community and social values."

We offer private showings of a wide selection of works by the artists we represent. We provide private art consultation and can bring works to your home or office within Southwest Florida. During the season we show new exhibitions regularly starting in November and running through April. Please contact us for more information.
Warm regards,
Kristine Meek
Owner-Director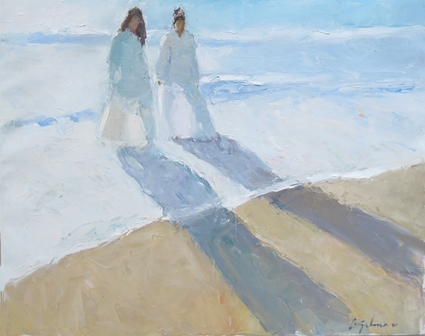 "The Kingdom of Victory" by Reynier Llanes
coffee on paper, 40"x33", 2016