Dear Friends,

Currently on exhibit is Tobi Kahn - AURA: New Paintings from Nature, March 12-22.

Enchanted by Florida's landscapes since the 1970s, especially with the Everglades and Florida Keys, Tobi Kahn's love for the beauty and fragility of these dynamic and diverse ecosystems has been transmitted into this collection he titles "AURA". "My fascination with nature's complex beauty has always been a major inspiration for my art. The birth of my children, the landscapes that shape me, cells and biomorphic images - all appear in my work, but transmuted into archetypes, referring to reality and also responding to it: 21st century experience rendered into a timeless essence."

Harmon-Meek Gallery has represented this contemporary American master since 1994 and we have witnessed rising global recognition for his work from both museums and art critics alike. The works in this exhibition will go on to exhibit at the Museum of Art in Deland, FL this summer. His most recent museum exhibitions were at the Cornell Fine Arts Museum at Rollins College in Winter Park, FL, the Fort Wayne Museum of Art in Indiana, and The Butler Institute of American Art in Youngstown, OH in the spring of 2017.

Kahn's paintings are created by first building a solid wood base using cabinet finish grade wood and covering it in gesso. Many additional layers of gesso are added and actually sculpted in the desired patterns. Kahn then adds dozens of layers of paint and clear medium onto the surface to create his signature texture. He is equally concerned with capturing the colors from his mind, and adds elements and other pigments to his paints to create the correct color. A meticulous artist, Kahn is able to tap into the viewer's emotion and imagination through texture, color, and imagery in an unique way

We offer private showings of a wide selection of works by the artists we represent. We provide private art consultation and can bring works to your home or office within Southwest Florida. During the season we show new exhibitions regularly starting in November and running through April. Please contact us for more information.
Warm regards,
Kristine Meek
Owner-Director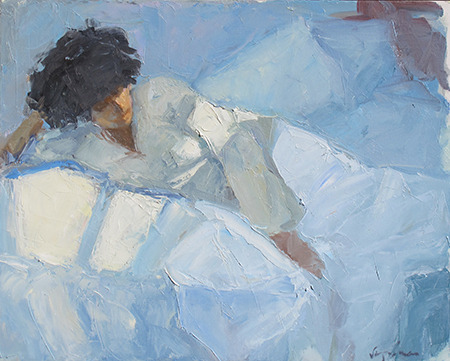 "YVGAL" by Tobi Kahn, acrylic on gesso wood panel, 24"x 34", 2017