Reynier Llanes was born in Pinar del Rio, Cuba in 1985. He attended the city's school of art (Instructores de arte) for four years and completed his studies in 2004. In Havana, Reynier was tutored by one of the country's most recognized realist artists, Juan Miguel Suarez.

In 2007 Llanes availed himself of an opportunity to emigrate from Cuba and moved to the United States.

In 2012 Oxford America recognized Llanes as one of the "New Superstars of Southern Art." He was awarded a "first purchase award" for a piece now in the art collection of the city of Charleston 2011 at Moja Art Festival Juried Exhibition Award. His art is on permanent exhibition in the Museum collection of Franklin G. Burroughs - Simeon B. Chapin Art Museum in Myrtle Beach, SC,Cornell Fine Arts Museum Rollins College, and Snite Museum of Art - South Bend, Indiana. His work has been exhibited in numerous museums and galleries throughout the east coast. While living in Charleston, SC and in addition to painting, Llanes worked as an art consultant for the renowned artist Jonathan Green at Green's Downtown studio.

In 2015 Llanes relocated with his family to Miami in order to take advantage of the city's international art market and vibrant cultural life and to be closer to his home country. South Florida is, of course, home to a large Cuban exile and emigre community many of whose intellectuals, collectors, and fellow artists have welcomed Llanes into their cosmopolitan scene. He recently had a solo exhibition, his first in South Florida, at Miami Dade College West, in Doral.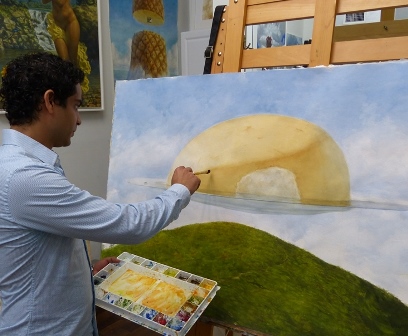 Reynier Llanes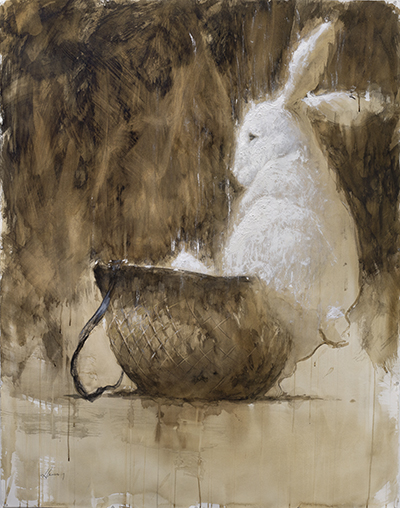 "The Finale" by Reynier Llanes
Coffee, Charcoal, Gesso on paper, 55" x 45", 2019