Born in Sprng Green Wisconsin, Richard Hass spent his youth working along side his great uncle, George Haas, a master stonemason at Taliesin, the home of architect Frank Lloyd Wright in Spring Green. Haas originally intended to become an architect, but was convinced by his teachers that he was an artist. Still these early influences of architecture are very much evident in his works today.

In Milwaukee, Haas studied at the University of Wisconin, where one of his teachers, Jack Tworkov, brought him "the word", as Haas calls it, of abstract expressionism. But Haas's real education, as he describes it, came with designing and overseeing executiong of his intriguing exterior and interior murals.

In 1968 Haas moved to New York for a one year sabbatical that has lasted until the present. At the same time, he also accepted a one-year teaching position in printmaking at Bennington College, which lasted for over 10 years. He split his time between Soho and Vermont during this very productive period of his life.

After working for many years as an abstract and color field painter he began to produce a series of drawings, paintings and especially etchings and drypoints of 19 th and early 20th Century New York facades and buildings. These studies began as studies for his dioramic boxes of New York streets but evolved into a full-fledged obsession with American architecture and its history.

In 1975 Haas completed his first outdoor mural, a replication of a cast iron fašade at the corner of Prince and Greene. This work was commissioned by Doris Freedman of Citywalls, which later evolved into the Public Art Fund. It led to dozens of other outdoor commissions throughout the United States and elsewhere. He also painted his first interior in his Soho loft. This classical redo of a loft interior included a fireplace and a balcony with a view over the roofs of Soho. This loft interior and that of Peter Nelson led to innumerable interior projects from that time to the present. Some included large and complex floor to ceiling public spaces, while others were small private interiors.

Haas has been honored with more than forty solo exhibitions at Museums throughout this country. Haas is past president of the National Academy of Design.

The Harmon-Meek Gallery is truly honored to exhibit the work of this National Academician.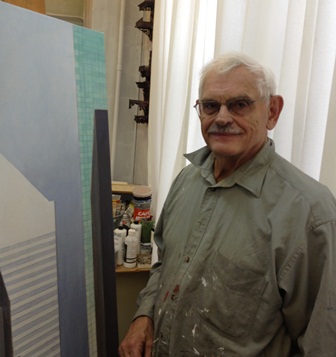 Richard Haas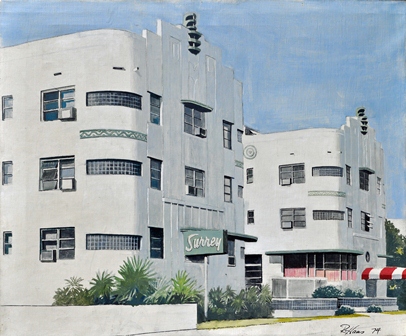 Surrey Hotel Miami Beach by Richard Haas
Acrylic on Canvas, 18"x24", 1974