Carol Griffin, a direct carver of stone and wood, is a recent addition to Harmon-Meek Galleries' cadre of artists. Her abstract figurative sculptures were debuted during the gallery's 57th season beginning Fall, 2019.

Born in Ohio, Ms. Griffin now considers herself a New Yorker, having lived and worked in the city since 1989. Griffin studied at various institutions in New York City including The Art Students League, Pratt Institute, and the New York Studio School of Drawing, Painting and Sculpture, where she was the recipient of a Ramapo Trust Scholarship for the study of sculpture.

While studying at The Art Students League, Griffin was introduced to direct carving by renowned sculptor Lorrie Goulet. This method of sculpture immediately resonated with her. Since 2010, Griffin has been the sole apprentice of Ms. Goulet, who is also represented by Harmon-Meek. Now retired from teaching, Ms. Goulet has chosen to work extensively and exclusively with Griffin, imparting the benefit of her 70+ years of experience in direct carving and drawing. Goulet has nurtured and maximized Griffin's artistic abilities. Their relationship is truly a modern example of the centuries-old tradition of a younger artist blossoming and maturing under the tutelage of a master. This apprenticeship has proven to have a unique and invaluable influence on Griffin's artistic development.

Griffin's work has been included in several juried exhibitions in New York City, and she has also exhibited in Southampton and East Hampton, New York. Her work is included in private collections throughout the United States.

Ms. Griffin is featured as Lorrie Goulet's protege in the recently completed award-winning documentary film titled Spirit into Stone, which was publicly premiered at New York City's Museum of Modern Art in October, 2019.

Artist Statement

I am a direct carver of abstract figurative sculptures. My mediums are natural stone and wood. I am inspired by forms in nature, particularly human figures, fresh produce, mathematical waves, and aquatic animals. I seek to express the beauty inherent in human and naturalistic shapes.

Creating beautiful things has been my passion since childhood. Always drawn to stones, I fell in love with the concept of carving from the moment I watched a bar of soap being shaped with a knife. I relish the subtractive nature of carving in that the removal of each fragment of material results from an irreversible decision.

As a direct carver, I allow the natural properties of the wood or stone to inspire me and influence my work, rather than imposing preconceived drawings or models onto the medium. I feel a palpable connection with the raw mass, and am guided by my inner vision, the inherent properties of the material, and my emotions. Often inspiration comes to me only after I've begun to carve a piece, from a place deep inside my subconscious. While working, most planning and analysis is put on hold while my hands and intuition take over. My hands are often on "auto-pilot".

The tools I use are simple: a hammer and chisels, the same tools that have served carvers through the centuries. The stones and woods I carve vary widely with regard to hardness and appearance. My stones range from colorful alabasters and soapstones to white marbles and beige limestones. The woods I use are equally assorted, including applewood, black walnut, pine, sassafras and cedar. Each piece of stone or wood presents unique challenges as I endeavor to incorporate their natural raw beauty into a finished piece.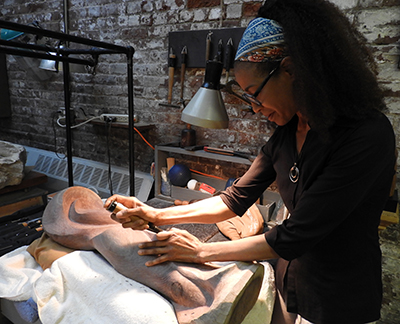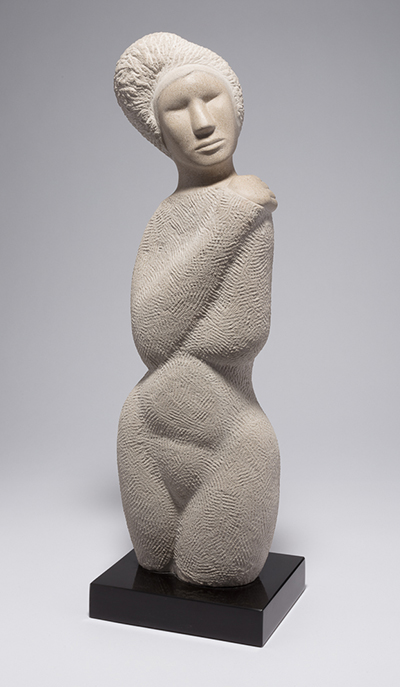 "No Lye" by Carol Griffin
Limestone, 25" x 7" x 3", 2006-2016