Born in Riverdale, NY, Lorrie Goulet was a student at the famed Black Mountain College in the 1940s. She has had scores of solo exhibitions at museums and galleries. Her sculpture can be found in the permanent collections of museums such as Wichita Museum of Art in Kansas, National Academy of Design in New York City and the Joseph H. Hirshhorn Museum & Sculpture Garden in Washington D.C. In 1998, Lorrie Goulet was honored by the National Museum of Women in the Arts in Washington D.C. with a solo exhibition titled "Fifty Years of Making Sculpture". She has had over 30 solo exhibitions at fine art galleries since 1948. Several new books about her career and her work are planned for publication in the upcoming year.

Artist's Statement:

I am a direct carver. I carve wood and stones by hand, without reference to a preconceived model or maquette. My method is hammer and chisel. My theme is based on the study of the natural forms of the figure. My interpretation is often abstract, using flat planes to fortify the forms, and to give them strength.

When I am carving (mostly in stone), I am inspired by the idea of the image in the round -- the three-dimensional concept -- that has line, mass, and movement.

In beginning, I use the stone like a blank canvas, sketching on it with charcoal any ideas that come to me. The piece is always conceived by feelings inspired by nature.

I am not aware of how I accomplish a carving. It seems like magic, plus a considerable amount of pounding hammer and chisel. The mystery is that when I put my hammer down, the piece is finished. All I know is that it's not important how much stone I removed. What's important is the stone that's left.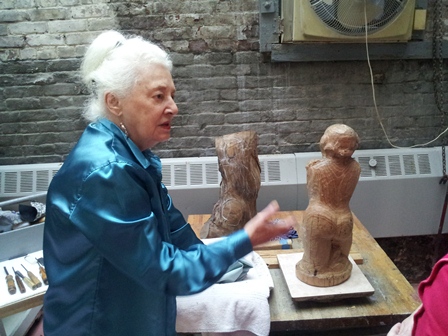 Lorrie Goulet