Dear Friends,

Harmon-Meek Gallery presents Jenness Cortez solo exhibition, February 20 - March 16.

This year we welcome Jenness Cortez, a distinguished figure in the contemporary revival of classical realist painting, to the Harmon-Meek Gallery. Cortez was born in 1944 in Indiana and as a teenager took private lessons with Antonius Raemaekers, a well-trained Dutch-born painter. By choosing to study at the Herron School of Art, one of the oldest independent professional schools of art in America, she received a rigorous five year training in all technical aspects of art making. To add to her store of technical mastery, Cortez then went to New York to study at the Art Students League under yet another gifted teacher, Arnold Blanch.

Throughout her remarkable career Cortez has become proficient in a variety of subject matter including sporting and wildlife art, landscape, portraiture, interiors and still-life. For twenty years (1977-1996), she was world renown for skillfully portraying horses most notably, thoroughbred racehorses. In the mid-1990s a growing interest in again broadening the challenges of her work inspired Cortez to move from horses to landscapes, and then to cityscapes and at last to interiors and still life painting where her focus remains today.

At the beginning of the 21st century, Cortez began concentrating on a form of still life painting inspired by the age-old tradition of "art in art." In 2003, the "Homage to the Creative Spirit" series became her primary mode of expression. This tradition was most notably employed by such 17th-century Dutch artists as Johannes Vermeer, usually to impart a hidden meaning to astute viewers. Similarly, Cortez's paintings offer layered meanings built on specific themes. She starts with an iconic masterwork and surrounds it with meticulously rendered book covers, photographs, sculpture, antiques, and other objects with cultural or historic significance. Each intricate Cortez creation challenges the viewers' intellectual curiosity and celebrates the sheer pleasure of beautiful painting. Each painting presents a specific theme, mixing straightforward cues and obscure allusions, complemented by references to other artists' lives and times. Each of her works touches upon important questions about the nature of painting and the significance of art objects, and presents subtle shades of meaning that invite contemplation. By depicting iconic artworks in her own paintings, Cortez underscores a classic paradox of realism: the painting as a "window" into an imagined space, and as a physical object; both a metaphysical presence and a material entity.

Her work is in numerous public and private collections including those of the New York State Museum, Skidmore College, SUNY Empire State College, Presidents Ronald Reagan and Bill Clinton, and HM Queen Elizabeth, II. Jenness Cortez lives and works in rural upstate New York.

We offer private showings of a wide selection of works by the artists we represent. We provide private art consultation and can bring works to your home or office within Southwest Florida. During the season we show new exhibitions regularly starting in November and running through April. Please contact us for more information.
Warm regards,
Kristine Meek
Owner-Director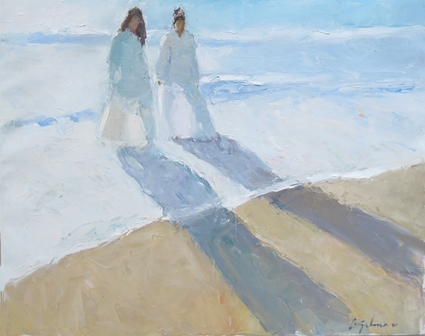 "Seeking Balance" by Jenness Cortez
acrylic on panel, 30"x24"
Homage to Johannes Vermeer (1632-1675)