Dear Friends,

Harmon-Meek Gallery presents Gary Bukovnik solo exhibition, January 9 - 26

One of America's leading watercolorists, Gary Bukovnik, a native of Cleveland and a longtime resident of San Francisco, will be featured in his third solo exhibition at our gallery. Gary is also our featured artist at this year's 4th Annual Visionaries of the Visual Arts Award dinner January 10. Small watercolors of individual flowers will be displayed on rotating tri-view stands as centerpieces on each table.

Truly an artist of international renown, Gary has had exhibitions in Japan, Thailand, Peru, and China just within the past three years. His exhibitions in China during this period and in years prior have been at major museums in different cities.

The Far East interest in his watercolors of flowers is perhaps as a result of the way he often sets his "still lifes" in motion by depicting flower vases full flowers in the act of tipping sometimes with water droplets coming out of the vase. The apparent imbalance still manages to be grounded as if a believable scenario is taking place.

The brilliant colors and captivating compositions make his work nothing short of creative genius. There is good reason why his paintings are in the permanent collections of so many recognized museums.

We offer private showings of a wide selection of works by the artists we represent. We provide private art consultation and can bring works to your home or office within Southwest Florida. During the season we show new exhibitions regularly starting in November and running through April. Please contact us for more information.
Warm regards,
Kristine Meek
Owner-Director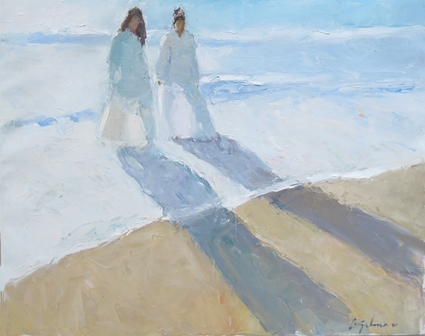 "Iris Study II" by Gary Bukovnik
watercolor, 10"x10", 2016