Dear Friends,

Harmon-Meek Gallery presents "Adolf Dehn in New York City", November 14 - December 1. Our Gallery is honored to represent the estate of the American master Adolf Dehn for more than forty-five years. During this time we have organized and lent more than thirty complete exhibitions to art museums across the country.

Our current exhibitions at both galleries mimic current museum exhibitions. "Dehn in New York City" at Harmon-Meek Gallery relates to an exhibition opening in early January tilted "Adolf Dehn-Midcentury Manhattan" currently on exhibit for three months at the Bellarmine Museum of Art at Fairfield University in Connecticut. "Humor of Adolf Dehn" at Harmon-Meek|modern relates to an exhibition also currently on exhibit titled "The Gentle Satire of Adolf Dehn" at the Palmer Museum of Art at Pennsylvania State University.

Both exhibitions demonstrate the versatility of this master lithographer and watercolorist as well as his wide range of subject matter. Dehn will forever hold the record of being invited to more Whitney Museum of American Art (NYC) "Annual Exhibitions" than any other artist.

In addition, two major books about Dehn are being published within the next two years. Dr. Philip Eliasoph, head of the art history Department at Fairfield University in Connecticut, and an author of numerous books about noted artists including George Tooker, Paul Cadmus, Colleen Browning and Robert Vickrey, has authored a book about Dehn's fifty years of inspiration about all aspects of life in New York City. It is due for release in January by the Artists Book Foundation. And Dr. Henry Adams of Case Western University in Cleveland, Ohio, author of books about Thomas Eakins and Thomas Hart Benton, is completing his book about the life and work of Adolf Dehn for a major Midwestern university press.

We feel this is an opportune time for our collectors to pay close attention to Adolf Dehn and the work we have on display at both galleries. Since a major portion of the artist's estate is stored with our gallery upon request other works in Dehn's repertoire are available for viewing, including those depicting his famous Midwestern farm scenes to the hills of Tuscany to his travels to Haiti in the 1950s.

We offer private showings of a wide selection of works by the artists we represent. We provide private art consultation and can bring works to your home or office within Southwest Florida. During the season we show new exhibitions regularly starting in November and running through April. Please contact us for more information.
Warm regards,
Kristine Meek
Owner-Director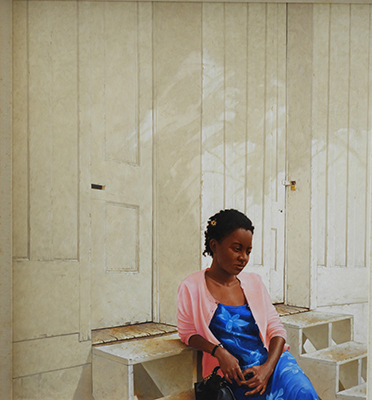 "Sunday Sunset, Staten Island" by Adolf Dehn
casein on panel, 28" x 42", 1956