Dear Friends,

Harmon-Meek Gallery is pleased to present the first solo exhibition in Naples for the contemporary lyrical realist painter, Gabriela Gonzalez Dellosso. Born in 1968 the native New Yorker studied at several of the city's finest schools including NYU, the School of Visual Arts, The Art Students' League and the National Academy.

"Gabriela came to our attention through recommendations from both the director of the Butler Institute of American Art, Lou Zona, and through a former gallery artist, the trompe l'oeil artist Gary Erbe. I liked her work and had her send me a few pieces to include in gallery group exhibitions last year. The works all sold and so Juliana and Kristine visited her this past summer in her studio across the river from Manhattan in New Jersey and picked out works for the solo show this year," says William Meek, director emeritus for Harmon-Meek Gallery.

Dellosso had a solo exhibition in 2006 at the Butler Institute of American Art in Youngstown, Ohio. Of her work, Director Lou Zona said "they are in a sense haunting works which recall the power of Surrealism to transport us to other realms, times and places. Dellosso's work effectively does this and does so with a learned flair."

In January 2016 her second solo show at the Butler Institute of American Art is scheduled and works from this exhibition at Harmon-Meek Gallery will travel to Ohio after the show.

Dellosso created a series of works that combine her own self-portrait with a portrait of female artist from a prior generation. These 'self-portrait homages' incorporate the style of the female artist being paid homage and bring to the attention of the public the story of these somehow forgotten trail-blazing female artists from earlier times.

In this show are two drawings, "Self-Portrait Homage to Adelaide Labille-Guiard" and "Self-Portrait Homage to Elisabeth Vigee Lebrun". Both women were admitted to the French Royal Academy of Painting and Sculpture on May 31, 1783 (only four women were admitted to the male dominated society). Both painters had their works exhibited side-by-side in Paris' most prestigious Salons and rumors of their rivalry flourished amongst art critics and contemporaries of their time. In both drawings Dellosso merges her own likeness with that of Adelaide and Elisabeth, bridging the gap of time between these trail-blazing female painters (and art instructors) and Gabriela.

The exhibition will run through April 10 with hours of 10 am to 5 pm, Monday through Friday.

click here to view works from this exhibition.

We also offer private showings of a wide selection of works by the artists we represent. We provide private art consultation and can bring works to your home or office within Southwest Florida. During the season we show new exhibitions regularly starting in November and running through April. Please contact us for more information.
Warm regards,
Kristine Meek
Owner-Director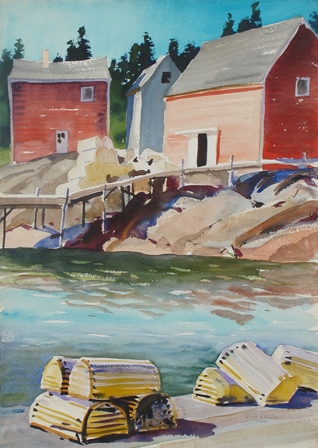 "Flags and Glass" by Gabriela Gonzalez Dellosso
oil on linen, 55" x 55", 2008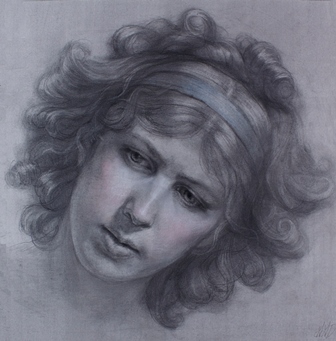 "Self Portrait Homage to Elisabeth Vigee Le Brun" by Gabriela Gonzalez Dellosso
mixed media, 20" x 20", 2014

Web Exhibition