Harmon-Meek Gallery directly represented Richard Anuszkiewicz from 1989 through 2009 and currently has work availble by this American Master.

Born in 1930 in Erie, PA, Richard Anuszkiewicz was a student under Josef Albers at the Yale School of Fine Art before embarking on his own career in the early 1950's in New York City. Since the 1950's his painting and sculpture has not only evolved in many ways utilizing the "Op Art" theory he developed, but has resulted in scores of solo exhibitions at museums and galleries for six decades.

In 1964, Life magazine called him "the new Wizard of Op". In 2000, the New York Times art critic Holland Cotter described Anuskiewicz's paintings by stating,"The drama - and that feels like the right word - is in the subtle chemistry of complementary colors, which makes the geometry glow as if light were leaking out from behind it."

His most recent efforts have involved "Linear Sculpture" in which thin laser-cut steel utilizes line in space to form 3-D images. These works have been a major part of his creativeness since 1997 and were first exhibited in a five museum solo retrospective in Germany and Switzerland in 1998 organized by the Albers Museum in Germany. The formal introduction of these works came at the Harmon-Meek Gallery in January, 2000 when the gallery chose Anuszkiewicz as its "millennium" artist. An exhibition devoted to his sculpture was featured in the spring of 2002 at the Gallery as well.

Anuszkiewicz has exhibited at the Venice Biennale, Florence Biennale and Documenta, and his works are in permanent collections internationally. Selected Museum Collections include: The Metropolitan Museum of Art, NYC; Museum of Modern Art, NYC; Hirshhorn Museum and Sculpture Garden, DC; Art Institute of Chicago; Boca Raton Museum of Art, FL; Milwaukee Art Museum, WI; Smithsonian Museum of American Art, DC; Ringling Museum, Sarasota; Cleveland Museum of Art, OH; and Guggenheim Museum, NYC.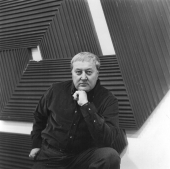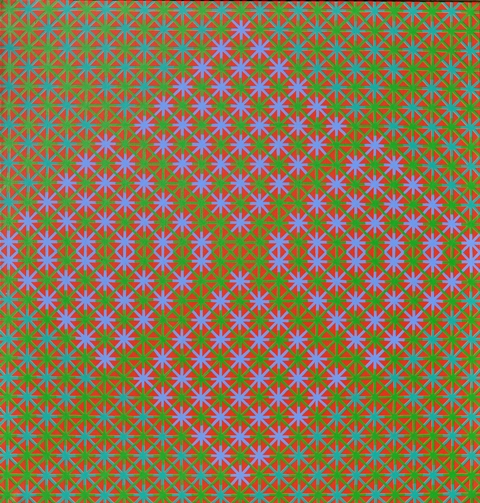 "Union of the Four" by Richard Anuskiewicz
Oil on canvas, 48" x 48",1961